In Making Master Guitars, I used Mahogany or Spanish Cedar (Cedrela) for the neck – this being a commonly used species for many classical guitars. But now my preferred wood for the neck is walnut. It is harder and more dense than Cedrela and I like the beautiful patina you can achieve after polishing it. Most important though, is the hardness that makes it more effective at preventing energy absorption.
Tapered slots for wedges
After Jose Romanillos showed me his method of joining the sides to the neck with wedges inserted into tapering slots, I tried this out and was immediately converted. It is a much easier way of making a perfectly fitting junction between sides and neck, compared to the 1.8 mm saw cut slots that were in common use previously. (Although it it worth noting that the wedge method Jose himself saw on a very old guitar, so it is not new.)
Head veneer /facing
Where the head veneer meets the nut, a perfect right angle slot between the head veneer and the fretboard is needed, to hold the nut in place. Luthier Tony Johnson showed me his method (which differs from the one shown in my book). His is a better way of making sure the angle is correct before even gluing the head veneer on to the head.
What you do is  place the head veneer on the head and project it a little way over the neck, so you can use a block plane on its side, laid on the neck, to plane the angle which will then be square to the neck.
To glue on the head veneer, you clamp a stop (I use a small engineer's square) on to the neck, exactly at the change of angle between neck and head, and another stop at the far end, so the head veneer cannot move while being glued and clamped.
This avoids the need to cut the end of the head veneer later, when there is a danger of cutting into the neck surface.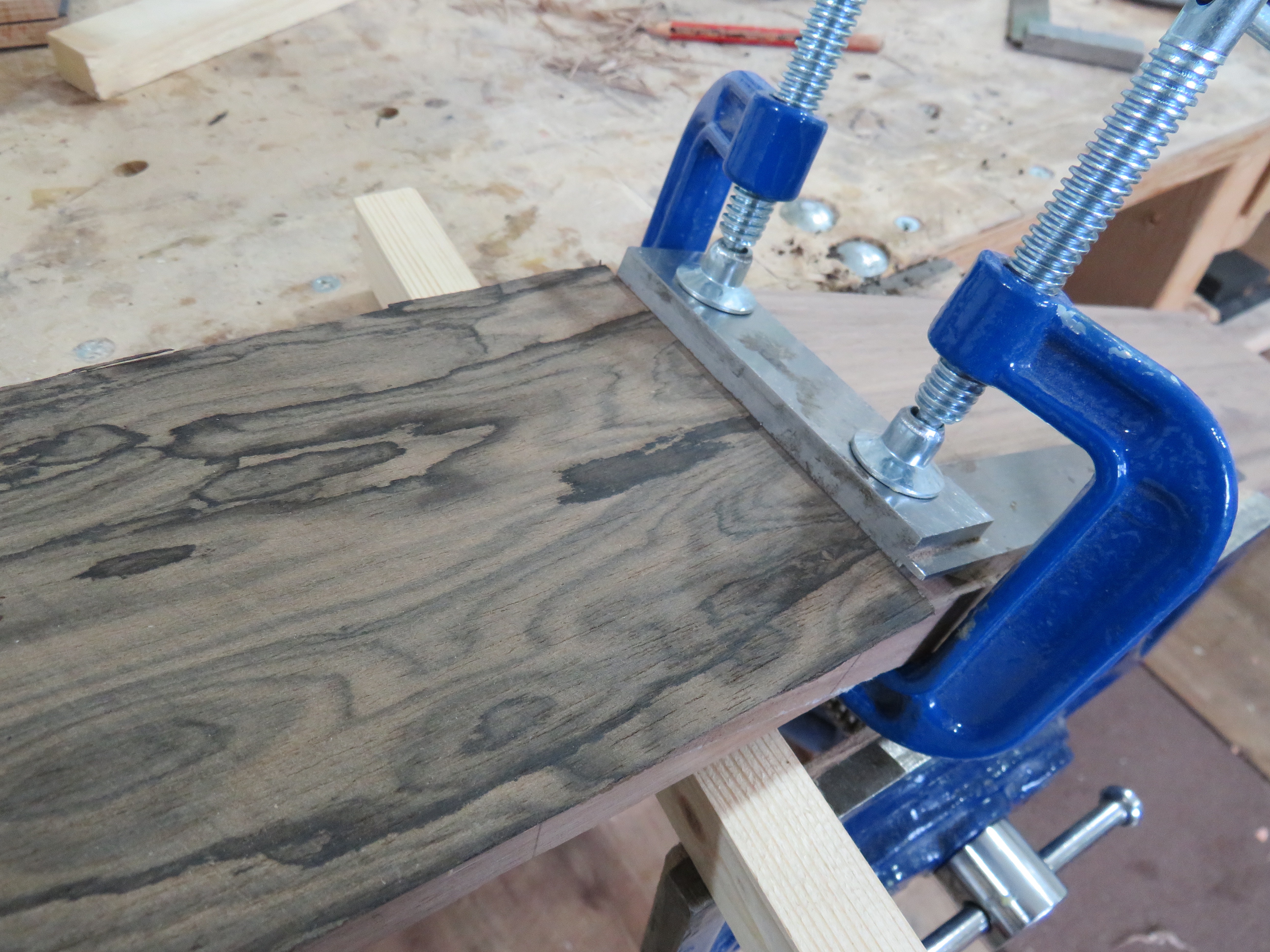 Machine Heads
Most tuning machines have 10mm rollers at 35mm centres. If the roller holes are drilled with a 10.5mm drill (or slightly smaller), a good fit will be achieved without the rollers binding. If they need cleaning out or reaming slightly larger, a drill bit held in a chuck can be used to fit them accurately.